Radioactive decay is the process by which an unstable atomic nucleus spontaneously loses energy by emitting ionizing particles and radiation. This decay, or loss of energy, results in an atom of one type, called the parent nuclide transforming to an atom of a different type, named the daughter nuclide. For example: a carbon-14 atom (the "parent") emits radiation and transforms to a nitrogen-14 atom (the "daughter"). This is a stochastic process on the atomic level, in that it is impossible to predict when a given atom will decay, but given a large number of similar atoms the decay rate, on average, is predictable.
The SI unit of activity is the becquerel (Bq). One Bq is defined as one transformation (or decay) per second. Since any reasonably-sized sample of radioactive material contains many atoms, a Bq is a tiny measure of activity; amounts on the order of GBq (gigabecquerel, 1 x 109 decays per second) or TBq (terabecquerel, 1 x 1012 decays per second) are commonly used. Another unit of radioactivity is the curie, Ci, which was originally defined as the amount of radium emanation (radon-222) in equilibrium with of one gram of pure radium, isotope Ra-226. At present it is equal, by definition, to the activity of any radionuclide decaying with a disintegration rate of 3.7 × 1010 Bq. The use of Ci is presently discouraged by the SI.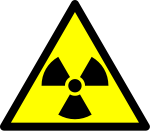 Danger of radioactive substances
Edit
The dangers of radioactivity and of radiation were not immediately recognized. Acute effects of radiation were first observed in the use of X-rays when electrical engineer and physicist Nikola Tesla intentionally subjected his fingers to X-rays in 1896. He published his observations concerning the burns that developed, though he attributed them to ozone rather than to X-rays. His injuries healed later.
The genetic effects of radiation, including the effects on cancer risk, were recognized much later. In 1927 Hermann Joseph Muller published research showing genetic effects, and in 1946 was awarded the Nobel prize for his findings.
Before the biological effects of radiation were known, many physicians and corporations had begun marketing radioactive substances as patent medicine and radioactive quackery. Examples were radium enema treatments, and radium-containing waters to be drunk as tonics. Marie Curie spoke out against this sort of treatment, warning that the effects of radiation on the human body were not well understood (Curie later died from aplastic anemia assumed due to her work with radium, but later examination of her bones showed that she had been a careful laboratory worker and had a low burden of radium. A more likely cause was her exposure to unshielded X-ray tubes while a volunteer medical worker in WWI). By the 1930s, after a number of cases of bone necrosis and death in enthusiasts, radium-containing medical products had nearly vanished from the market.
Ad blocker interference detected!
Wikia is a free-to-use site that makes money from advertising. We have a modified experience for viewers using ad blockers

Wikia is not accessible if you've made further modifications. Remove the custom ad blocker rule(s) and the page will load as expected.