The United States of America Secretary of the Treasury
is the head of the United States Department of the Treasury, concerned with finance and monetary matters, and, until 2003, some issues of
national security and defense
. This position in the Federal Government of the United States is analogous to the finance ministers of other countries. Most of the Department's law enforcement agencies such as the ATF, Customs Service, and Secret Service were reassigned to other Departments in 2003 in conjunction with the creation of the Department of Homeland Security. The Secretary is a member of the President's Cabinet and, since the Clinton years, has sat on the United States National Security Council. The Secretary of the Treasury is fifth in the United States presidential line of succession.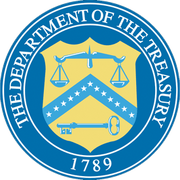 From the U.S. Department of the Treasury website:
"The Secretary of the Treasury is the principal economic advisor to the President and plays a critical role in policy-making by bringing an economic and government financial policy perspective to issues facing the government. The Secretary is responsible for formulating and recommending domestic and international financial, economic, and tax policy, participating in the formulation of broad fiscal policies that have general significance for the economy, and managing the public debt. The Secretary oversees the activities of the Department in carrying out its major law enforcement responsibilities; in serving as the financial agent for the United States Government; and in manufacturing coins and currency.
"The Chief Financial Officer of the government, the Secretary serves as Chairman Pro Tempore of the President's Economic Policy Council, Chairman of the Boards and Managing Trustee of the Social Security and Medicare Trust Funds, and as U.S. Governor of the International Monetary Fund, the International Bank for Reconstruction and Development, the Inter-American Development Bank, the Asian Development Bank, and the European Bank for Reconstruction and Development."
The Secretary along with the Treasurer must sign Federal Reserve notes before they can become legal tender. The Secretary also manages the United States Emergency Economic Stabilization fund.
The current Secretary of the Treasury is Timothy Geithner. The Secretary of the Treasury earns $191,300 per year.
Ad blocker interference detected!
Wikia is a free-to-use site that makes money from advertising. We have a modified experience for viewers using ad blockers

Wikia is not accessible if you've made further modifications. Remove the custom ad blocker rule(s) and the page will load as expected.