The Suzuki Twin
was a kei car built by Suzuki and sold in Japan from January 22, 2003 until October 2005. It was also available in a hybrid version.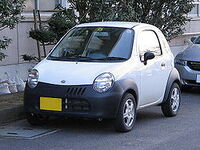 Technical data
Edit
3 cylinder, four stroke
Four valves per cylinder
Double overhead camshaft
Displacement: 658 cc
Power: 32 kW (44 PS) at 5500 rpm
Torque: 57 N·m at 3500 rpm
Electric motor
Edit
Power: 5 kW (7 PS) at 1500-4500 rpm
Torque: 32 N·m at 0-1500 rpm
Front wheel drive
Automatic transmission with Start-Stop-System
Disc brakes at front
Drum brakes at rear
Acceleration
0–50 km/h: 6.5 seconds
0–80 km/h: 16.3 seconds
0–100 km/h: 32.1 seconds
max. speed: 120 km/h (75 mph)
fuel consumption: under 3 litres per 100 km
Overall length: 2735 mm (107.7 in)
Overall width: 1475 mm (58.1 in)
Overall height: 1450 mm (57.1 in)
Wheelbase: 1800 mm (70.9 in)
front tread width: 1310 mm (51.6 in)
rear tread width: 1290 mm (50.8 in)
tire: 135/80R12
basic weight 750 kg (1653 lb)
payload 150 kg (331 lb)
Ad blocker interference detected!
Wikia is a free-to-use site that makes money from advertising. We have a modified experience for viewers using ad blockers

Wikia is not accessible if you've made further modifications. Remove the custom ad blocker rule(s) and the page will load as expected.