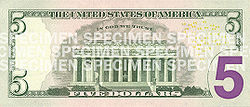 The United States five-dollar bill ($5) is a denomination of United States currency. The $5 bill currently features U.S. President Abraham Lincoln's portrait on the front and the Lincoln Memorial on the back. All $5 bills issued today are Federal Reserve Notes.
The $5 bill is sometimes nicknamed a "fin". The term has German/Yiddish roots and is remotely related to the English "five", but it is far less common today than it was in the late 19th and early 20th Centuries.
The Bureau of Engraving and Printing
says the average life of a $5 bill in circulation is 16 months before it is replaced due to wear. Approximately 9 percent of all paper currency produced by the U.S. Treasury's Bureau of Engraving and Printing today are $5 bills.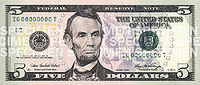 Ad blocker interference detected!
Wikia is a free-to-use site that makes money from advertising. We have a modified experience for viewers using ad blockers

Wikia is not accessible if you've made further modifications. Remove the custom ad blocker rule(s) and the page will load as expected.