The
Xbox 360
is the second video game console produced by Microsoft, and the successor to the Xbox. The Xbox 360 competes with Sony's
PlayStation 3
and
Nintendo's Wii
as part of the seventh generation of video game consoles.
Some major features of the Xbox 360 are its integrated Xbox Live service that allows players to compete online, download arcade games, game demos, trailers, TV shows, music and movies and its Windows Media Center multimedia capabilities. The Xbox 360 also offers region specific access to third-party media streaming services such as Netflix in the USA or Sky TV in the UK.
The Xbox 360 was officially unveiled on MTV on May 12, 2005, with detailed launch and game information divulged later that month at the Electronic Entertainment Expo (E3). The console sold out completely upon release in all regions except in Japan, and, as of April 2010, there are over 40 million Xbox 360 consoles worldwide. The Xbox 360 is currently available in two configurations—the "Arcade" and the "Elite"—each with its own selection of accessories.
The 2010 Model
Edit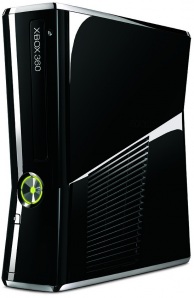 Microsoft on Monday introduced a slimmer version of the Xbox 360 console amid demonstrations of its controller-free gaming device Kinect.
The new Xbox 360 costs the same as its predecessor ($300) and will begin shipping to retailers today, according to Microsoft.
Other features include a removable 250-GB hard drive (up from 120 GB), 802.11N Wi-Fi connectivity, five USB slots, touch-sensitive power buttons and backward compatibility with all games (but not your existing hard drives or Memory Unit memory cards). Microsoft also claims the new Xbox runs quieter than previous versions, as the console now has one large fan as opposed to two small fans.
The console also sports a "Kinect-Ready" port that hooks up directly to Kinect. (It's unclear how to connect to Kinect with the older Xbox. We've put in a query with Microsoft.)
The announcement concluded Microsoft's press conference at the E3 gaming convention. Earlier in the conference, Microsoft showcased its upcoming Xbox 360 accessory Kinect, which uses multiple cameras to track a player's body movements and translate them into game controls. Several major gaming companies, including Konami and Activision, showed off new titles utilizing the device.
Due for release later this year, the Kinect device puts Microsoft's Xbox in closer competition with Nintendo's Wii, whose Wiimote features a combination of motion and optical sensors enabling players to manipulate objects on the screen with hand gestures.
Ad blocker interference detected!
Wikia is a free-to-use site that makes money from advertising. We have a modified experience for viewers using ad blockers

Wikia is not accessible if you've made further modifications. Remove the custom ad blocker rule(s) and the page will load as expected.